Commercial Painting
Emerald Painters, are well established, trading since 1987 with many years experience, in the painting and decorating trade. All painting and decorating tasks carried out in a professional and friendly manner, using the best quality paint and decorating brushes and materials. Customer Satisfaction is our priority. Many Listed Buildings, painted and decorated and other large companies in the Dorset area have been our clients.
Specialists in Commercial Projects
All commercial properties painted and decorated by Emerald Painters including blocks of flats, hotels, restaurants, rest homes, nursing homes, retirement apartment blocks. Also schools, office blocks, doctors and dentist surgeries, and all types of retail shops and businesses. Decoration available for all communal areas of public buildings, both internally and externally. High quality trade paint used throughout and floors and furniture covered to minimise damage.
Painting and decorating by Emerald includes ceilings, walls and doors, and inside and outside of any building. Taking pride in the fact that we let your business or establishment carry on without too much disruption to staff, residents and members of the public who frequent the building. Also advice and help is at hand as Emerald Painters can quote for wallpaper hanging and advise on colour schemes to enhance the internal fixtures and fittings of the building. New Builds also decorated, covering flats, houses and commercial properties which require painting.
Emerald Painters also repair windows, sand floors, fit decking and laminate flooring to ensure total refurbishment, if necessary.
Industrial Paint Spraying undertaken
Cladding Paint Spraying undertaken
K Rend Paint Specialists
Intumescent Paint (a fire-retardant paint available for all commercial properties)
Intumescent Paint Spraying (fire retardant paint sprayed on)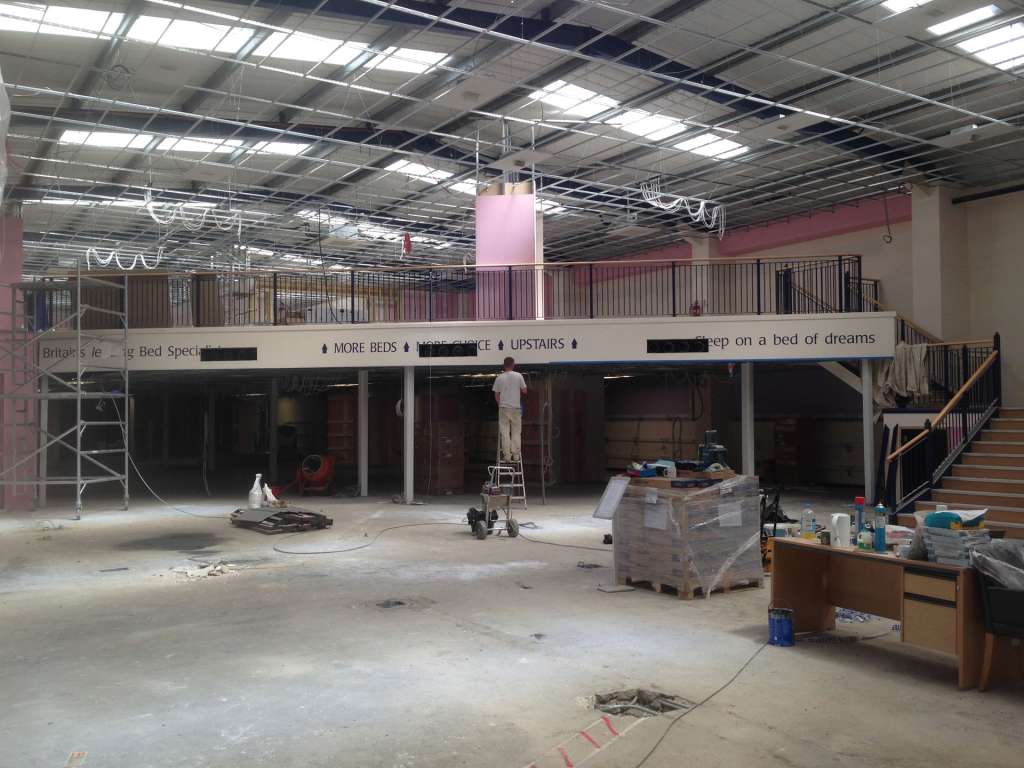 Managing Agents, Letting Agents, Estate Agents and Landlords
Agents & Landlords
Emerald Painters offer commercial contracts for commercial properties or arrange be-spoke decoration to an individual room or an entire building on behalf of your clients and tenants.
Do you manage properties and you are responsible to obtain a full quotation to re-decorate any blocks of flats, however small or large that you manage, or is a property rented out through your agency? If you are the managing agent, is it your task to oversee the re-decoration of all communal areas in block of flats or in apartment blocks?
Please contact Emerald Painters to arrange a mutually convenient time to undertake a site visit and provide a quote.
Are you a Landlord who lets properties to private individuals or houses to students, from the local University, and are looking to redecorate between lettings? Please contact us in good time so that we can arrange a site visit as during July and August advanced booking is recommended.
Hotels / Guest Houses / Holiday Lettings
Accomodation
Emerald Painters offer painting and decorating for Hotels, Guest Houses and Holiday Lettings, with high standards of workmanship to ensure you are fully satisfied with our service. Painting and Decorating, inside and out, from a small guest house, to an apartment in a holiday home and the outside of a large hotel, we can help with any small paint job or makeover.
For example Emerald Painters undertook a redecoration job for a large apartment block in the Sussex area.
Emerald Painters covers all locations in and around Bournemouth and along the south coast.
Rest Homes / Retirement Homes / Nursing Homes / Warden Assisted / Assisted Living Properties
Homes
Painting and Decorating undertaken for all internal and external areas of Rest Homes, Retirement and Nursing Homes including Warden Assisted flats and communal areas. All painting and decorating carried out by Emerald Painters in an unobtrusive and professional manner, with speed and efficiency to ensure disruption is kept to a minimum. All areas, whether large or small, from a small individual room, to corridors, stairways, lounge and dining areas covered, even the whole building. We can give advice on colour schemes and provide paint charts.
Doctors / Dentists / Opticians / Hospitals
Healthcare
Emerald Painters decorates all public communal areas and private staff rooms in any medical facility quickly and efficiently, with the minimum of disruption. All areas painted and decorated including stairs, hallways and reception areas. Whether it is emulsion paint for walls, paper hanging, or just a ceiling that needs redecorating, all rooms whether large or small can be undertaken. Please request a written quotation.
Public Houses / Bars / Restaurants / Night Clubs
Public Buildings
Some of these establishments may require redecorating on a more regular basis than usual. Because there is a large volume of customers who may frequent the building on a daily basis, and because of constant movement around the communal areas, general wear and tear of areas like staircases or walls, emulsion paint may be generally all that is required, which will keep all areas looking spic and span. However, if a full refurbishment is required, we can cover that too. Emerald painters and decorators will be happy to undertake all types of jobs that may be relevant to your business.
Church Halls and all other commercial and industrial units
Large Halls & Rooms
Any quote offered by Emerald Painters for any paint and decoration job for any commercial property, whether internally or externally, will be very competitive. We only use the best quality paint and materials and have gained experience over the past 25 years of being in this trade. If business or building is not listed above, please contact Emerald Painters to arrange a site visit and for a full written quotation. Thank you.
Shops / Offices / Theatres / Cinemas
Commercial Areas
Emerald Painters can re-decorate any area in any building, whether it is small or large. We can decorate small private staff rooms or larger more public, communal areas, through to the whole building if required. All areas including single rooms, staff areas, staircases and corridors decorated. Perhaps one wall needs an eye catching, trendy wallpaper hung, perhaps the whole colour scheme needs to be changed, if required Emerald Painters will help with any decision to be made on colour schemes. Quality, durable paint and existing colour schemes will blend in perfectly. All local Council offices, and council run buildings, eg libraries or youth centres, painted and decorated.
Banks / Building Societies
Emerald Painters undertakes decorating for all major financial institutions where wear and tear, mainly on walls, and in high traffic areas where the existing paintwork is damaged with shoe marks, scrapes and bumps certain areas of the building are more susceptible to damage than others. An unsightly, dirty and unclean area will look uninviting and any repainting that is necessary can be coated quickly and with the minimum of fuss. Emerald Painters will carry out this work, around the establishment and work quickly and methodically to ensure a first class, professional finish time after time. Perhaps it is only the back office or a staff room that needs a lick of paint to freshen and brighten up areas, if so please contact us for a competitive quote.
Private Schools / Nurseries / Schools / Academies / Colleges / Universities / Student Accommodation
Education
Emerald Painters knows that all high traffic areas within learning establishments may need to be painted and/or decorated regularly, possibly once a year, at the end of the summer term. Emerald Painters will offer competitive quotes to ensure all walls, ceilings and stairwells can be painted with emulsion with the minimum of disruption, and perhaps this will need to be done during July/ August. All internal emulsion and paint jobs can be carried out at any time of year, working around the day to day running of the teaching day. Please ensure you book well in advance, as Emerald can be busier during the summer months when painting the exterior of properties is more popular.
All other areas around the building can also be quoted for, perhaps the staff areas require a more luxurious look, we can accommodate that by suggesting colour schemes or wallpaper designs. Advanced booking is recommended, so please contact us for quotes in plenty of time, perhaps a few months before having the work carried out so that we can plan and take bookings accordingly.
Gyms / Fitness Clubs / Health Clubs
Fitness
Emerald Painters knows the importance of keeping all public, communal and staff areas clean, tidy because of the popularity of Gyms, Fitness and Health Clubs, in both the private sector and in local council ownership, whether it be the coffee shop, the gym area, or changing rooms, all areas can be painted or decorated. It may be that a more luxurious makeover is required and but other areas may require a more moderate basic, eye catching, clean look, our quotes will reflect this. Emerald Painters aims to be as helpful as possible every step of the way and will complete all jobs on time even with tight schedules to meet.