Welcome To Emerald Painters
Welcome to Emerald Painters website, well established Painters and Decorators since 1987. We have been established in Bournemouth since 1998.
You will be glad you found us!
My name is Conor Mcilvenny and I am the proprietor and lead member of a team of professional painters and decorators called Emerald Painters based in Southbourne, Bournemouth.
Your free consultation or quotation is just a phone call away. Go on you know you want to!
Commercial
Like our residential painting services, our company's commercial painting in Emerald Painters is of the highest quality and is backed by many years experience.
Residential
Whether you have a large house, bungalow or flat / apartment, all internal and external areas of your home can be painted and decorated.
Small Building Works
With a team of tradesmen on call Emerald can be your one point of call to undertake general building or home improvement work as part of your project.
Let us Introduce Ourselves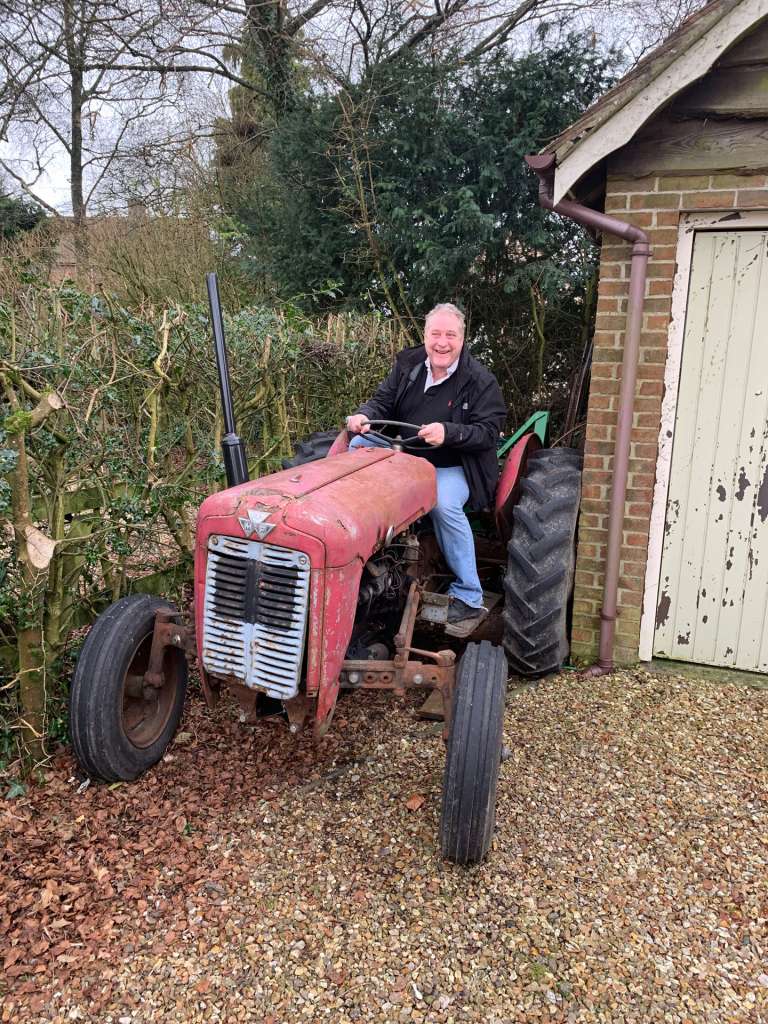 My name is Conor and I am proud to be the proprietor of Emerald Painters, a leading, top class local painting and decorating business based in Southbourne, Bournemouth covering the Dorset area.
We have established ourselves over many years in the building and construction industry and have many many happy clients. As a result of this we are constantly asked for a whole range of home improvement services, and have therefore, established a network of professional tradesmen within this industry.
Emerald Painters are your single one Point of Call and can project manage refurbishments or conversions and using our contacts for all projects undertaken we offer a top-class service. From an initial enquiry to job completion, we can manage the entire process to provide you, the client, with a first-class professional job. We pride ourselves with reliability, punctuality, affordability and most of all our organisational skills.
Work is completed in sequence so that projects are undertaken with the minimum of fuss, ensuring the progress of each job is completed in order and to satisfactory time scales. Not only are we able to provide the labour, but we can also source a complete range of products, if this is required.
We believe we offer a fantastic service ensuring clients return to use our services time and time again. Using our experience and knowledge we are happy to help if you have been let down at the last minute – let us help you, we could potentially get someone in to help you tomorrow.
We offer a stress-free service ensuring the minimum of disruption to your daily life. We are able to call upon a large team of individual and multi-skilled tradesmen, who offer a good rapport with our clients.
Conor is happy to visit you and provide a free no obligation quote for almost any job around your home or business.
Putting back into the Community
Here at Emerald we love to put some effort back into our local community. We offer support and sponsor many local events in the areas of Bournemouth, Poole and Christchurch. Check out who we sponsor next. It could be you!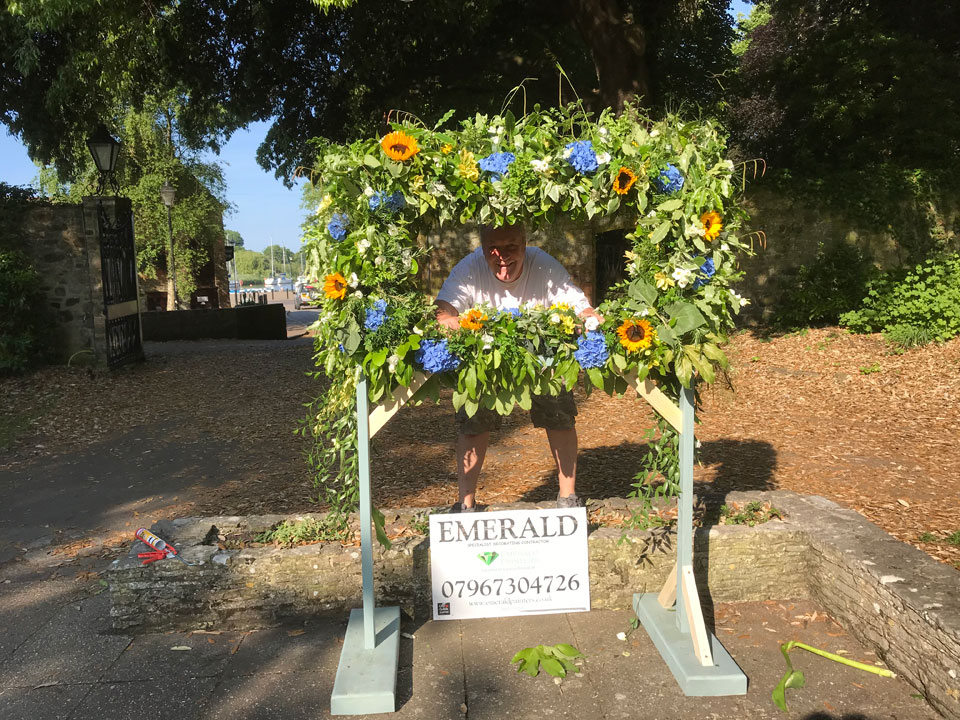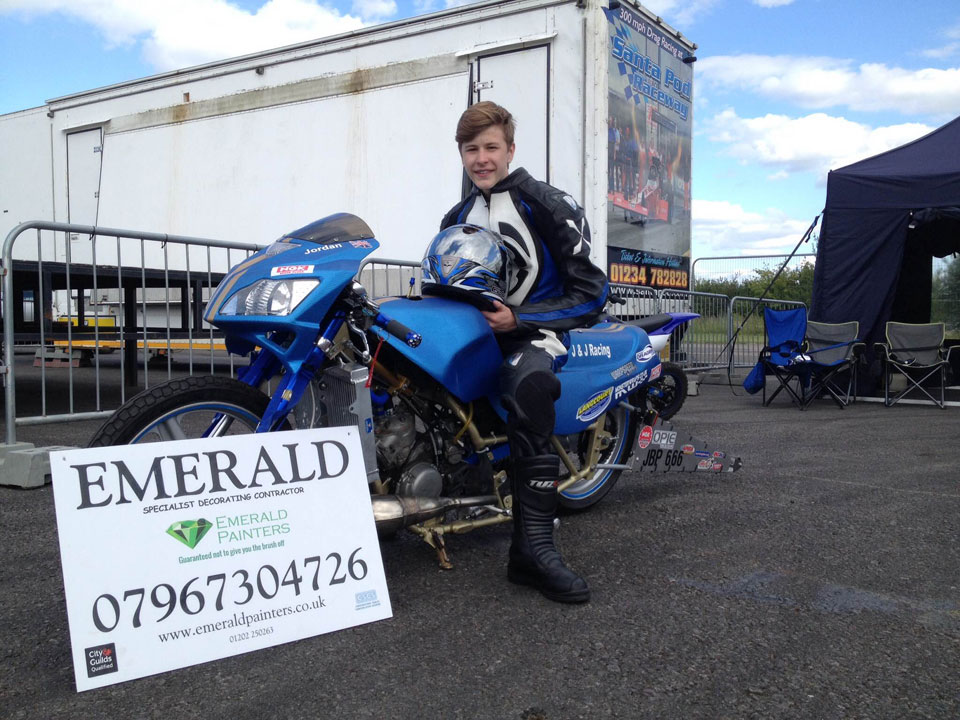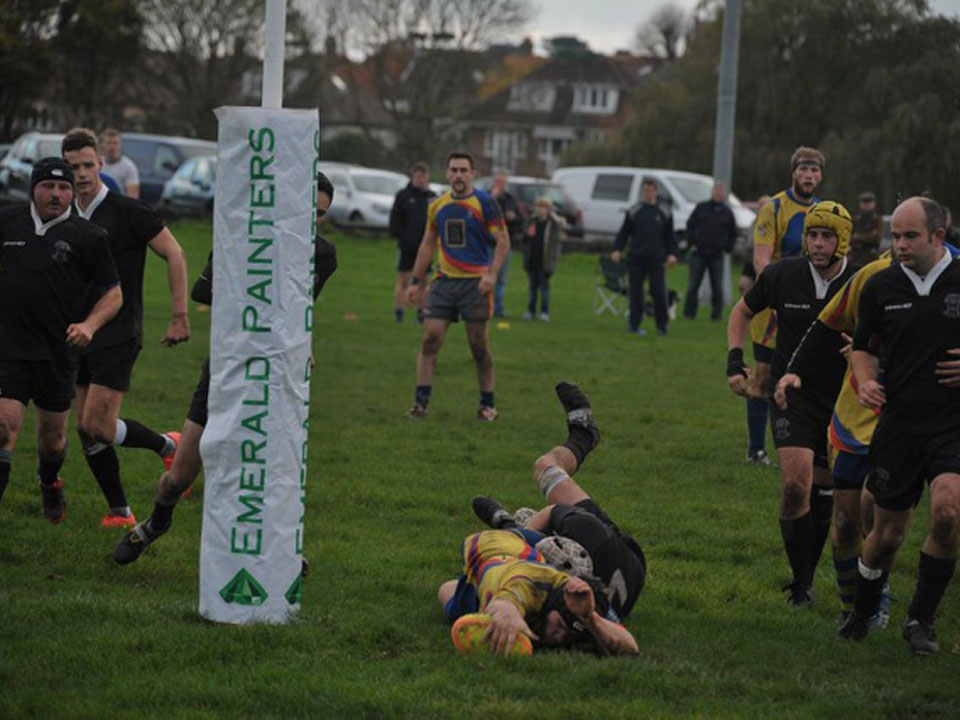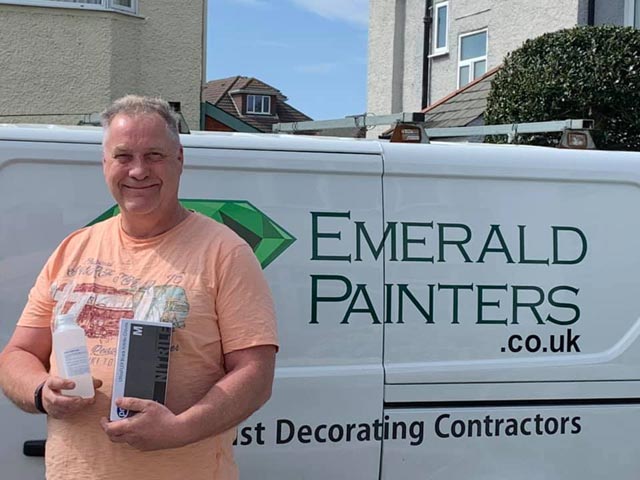 Supporting Macmillan
We donated 30 litres of sanitizer to Macmillan Caring Locally based at Christchurch Hospital, for their community nursing team. Neil Williamson, a coordinator from Macmillan Caring Locally said:
"We just had the pleasure of meeting (from a safe distance) Conor from Emerald Painters who kindly donated a huge supply of hand sanitiser for our staff. Stock that he cannot use because he is unable to work during the crisis."
"This was such a kind thought, and we hope that once we are back to normal Emerald Painters and all other small businesses get plenty of new orders."
Supporting Health Care Workers
Emerald Painters have donated 1,000 pairs of surgical examination gloves to Aucklands Rest Home on Ken Road in Southbourne.
Director of Emerald Painters Conor McIlvenny said: "A substantial amount of our workload involves working in universities and hospitals."
"With most of our staff furloughed at the moment, and PPE being like gold dust at the moment, we thought it would be a good gesture to donate any PPE that we stock to a worthy cause and support our local community."
Community Heroes continue to lead the way in coronavirus support – Bournemouth Echo Article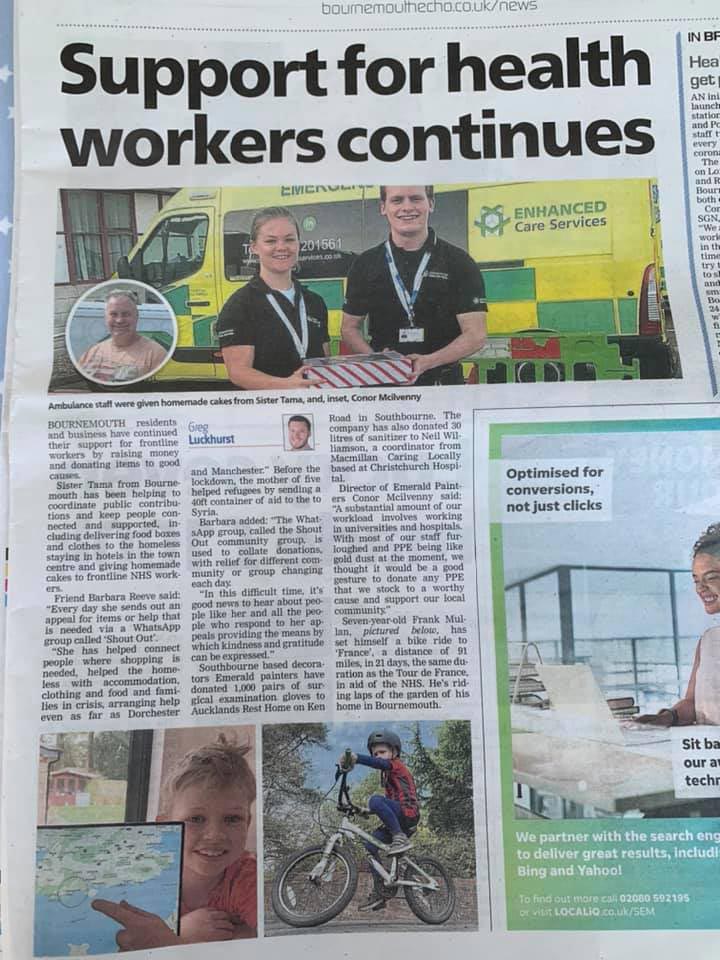 Donating to Southbourne Food Bank
We were very happy today to donate a van load of food to our local food bank for the kind volunteers of https://www.immanuelsouthbourne.org/ to distribute to the needy during Christmas 2020. God bless no one should ever go without in our society.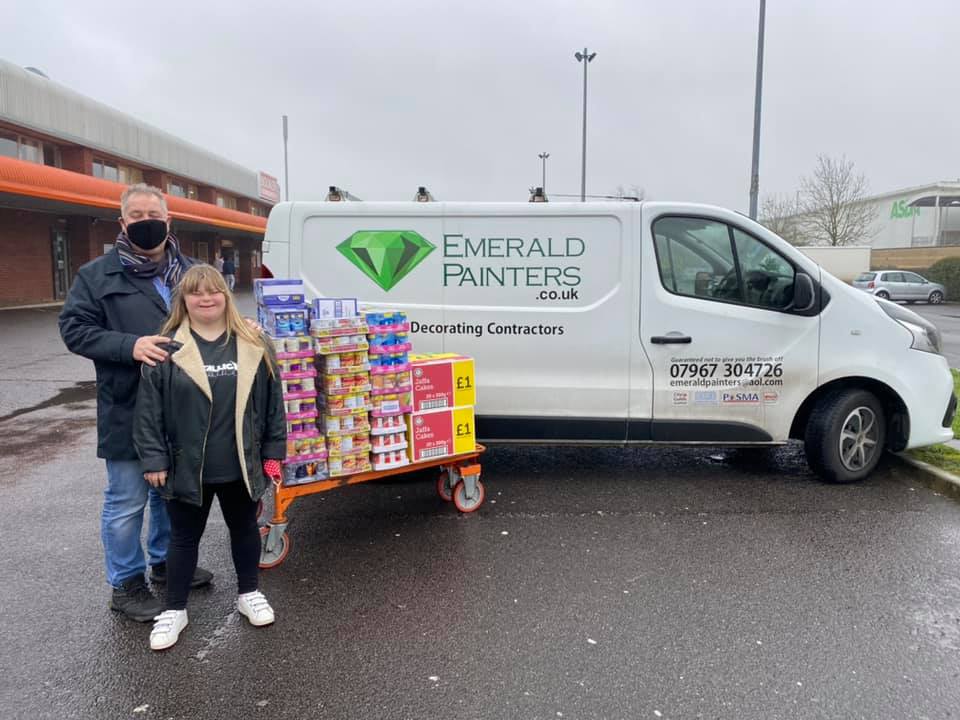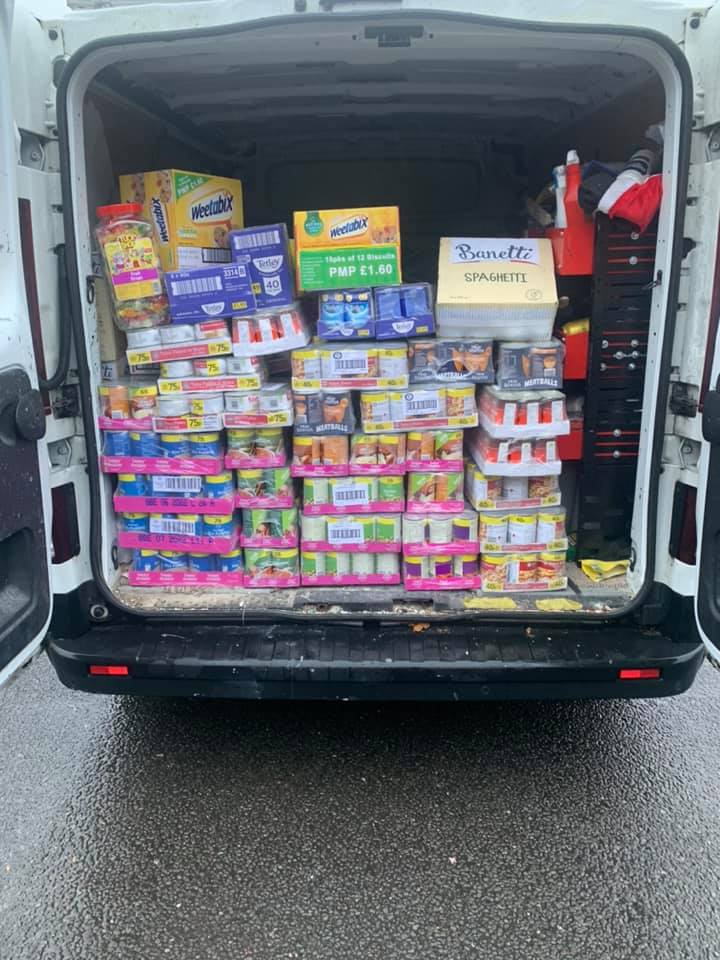 5 STARS
Conor and his crew were very accommodating and to a fit the large number of areas that I needed decorating within a specific timeframe was much appreciated, especially during a busy time of year for them! The crew was amazingly friendly as they always arrived very punctually, worked hard, and straightened up before leaving. They are the go-to people, they do excellent work, when they leave everything is spotless. So, terrific work and price, showed up when they said they would, no problems, no issues, no concerns. I wish everyone was like this! I would recommend Emerald and his crew without hesitation.
Lounge and Dining Room redecorated and painted
I'm in the processing of selling my house, and decided that these two rooms were looking very shabby, especially the wallpaper. Once again, Conor and his team rode to the rescue and have done a marvellous job. Very special thanks to Mick (Wall-paperer and Painter extraordinaire). I would have no hesitation in recommending Emerald Painters to anyone who needs decorating work done to a high standard.
10/10 for Workmanship, Reliability and timekeeping, Tidiness and Courtesy
Decoration works to 4 bedroom house
Emerald Painters promptly popped over to give me a quote and admittedly not the cheapest but I liked Conor's knowledge and experience so gave them the job. The team arrived on time and cracked on unsupervised from myself as I rent out the property. I was very satisfied with the finish and the property was left clean and tidy. I would have no hesitation in recommending emerald to my friend or anyone else. Great job on budget and on time, brilliant service.
"Fantastically efficient, neat and tidy, well organised and very friendly too! They completed the work to the highest standard. The best painters and decorators I have ever used."
"Well done lads, wonderful job you did. Very satisfied with all work carried out. Thanks very much …..Bill"
"Good job all around thank you. Very good wallpapering in particular."
"Quality job undertaken professionally and very quickly. Very pleased with the result. Thank you."
"Good value, reliable, quick and helpful, recommended."
"They were polite, friendly, expeditious and professional throughout. I have no hesitation in recommending them."
"Conor did a great job replacing our barge boards and achieved a good finish to our exterior woodwork. Our neighbours were so impressed they hired him to do work on their house."
I can really recommend Emerald Painters. As a person with a disability I was desperate for a walk in shower. Let down by other people and told the costs by others plus the weeks delay before it could be done, finding Conor was the best news.
Conor came same day, measured and ordered parts. Costs were half what I had been quoted and he kept in budget. Chris the plumber was a great worker and came prompt each day. I liked the one port of call for all the trades. 5***** service.
"Brilliant all your decorating needs and small building works under one roof. Conor layed new flooring for me, fitted new skirting and door frames and even fitted a new kitchen and bathroom to a very high standard. Book them in now!"
"5 star service! Would really recommend Emerald – they are professional, friendly, efficient and do an excellent job. Especially liked that Conor (owner) made sure we were happy with the job when the work was done. We will be happy to use Emerald again."
"Brilliant, trustworthy, exceptionally hard working. Conor and the team have now been working for us for around 6 months and you get to know the squad after this amount of time and I must say their standard of work is faultless and time keeping impeccable. I would have no hesitation in recommending them to anyone. You will be very fortunate if you are able to undertake their services."
"Excellent job, done quickly and efficiently and at a very reasonable price. I will definitely be recommending Emerald to anyone requiring a good, reliable painting/decorating company. Thanks."